Can anyone predict the end of the world?
Can anyone predict the end of the world?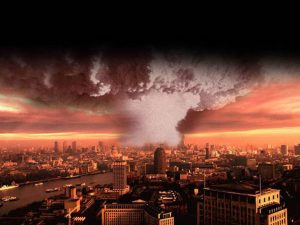 World events will not enable anyone to predict when the world will end.
Let's take a look at some scriptures to support this idea.
Mt 2:4-5; Mk 13:5-6; Mk 13:22; Lk 21:8 – Many deceivers are foretold to come, saying the time is near. See 2 Thess 2:1-2
Mt 24:6-14; Mk 13:7-8; Lk 21:9-12 – Upheavals, wars, fights and troubles, false prophets are all predicted, but this doesn't mean the end. The gospel is also predicted to be preached to the entire earth.
Mt 24:36-39 – Like the global flood – the end will come suddenly, catching people off guard. 1 Pt 3:21 – This water symbolized baptism, which is protecting Christians, like the ark from the flood.
Mt 23:40-44 – Selective process, but unexpected – swiftly and suddenly.
Mt 24:45-51 – Seemingly delayed return, comes unexpectedly to the wicked. What does Jesus want us to do?
Mt 25:1-13 – The end comes when it is least expected "at midnight," very suddenly (vs. 6), parallels the trumpet blast in Mt 24:31.  The foolish virgins are not adequately prepared – not on constant vigilance.
Mt 25:14-30 – The man on the long journey parallels Jesus' lengthy delay that will precede his second coming. In verse 19, he returns after a long time.