10,000-year-old extinct lion cubs discovered in near-perfect condition in Siberian permafrost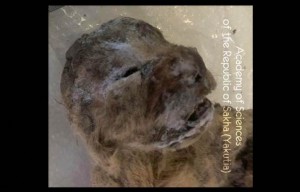 MSN News published an article on October 27, 2015 about extinct lion cubs being discovered in Siberian permafrost. The article says:
"Two extinct cave lion cubs were discovered in permafrost in northeastern Siberia, a 'sensational' and unprecedented find according to The Siberian Times. The cubs are believed to be at least 10,000 years old, though they might be even older, and were found almost perfectly preserved thanks to the permafrost.
The region where the cubs were discovered, the Sakha Republic, has yielded discoveries before, including woolly mammoths, woolly rhinoceros, bison, and horses. The remains of the lions are the most complete specimens of their kind ever discovered, according to researchers involved. read more