Old Covenant Canceled; New Covenant Operates
Old Covenant Canceled; New Covenant Operates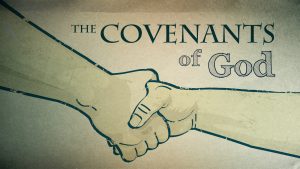 Fleshly Israel was under the old covenant, which was canceled. Now a new covenant operates for Christians. How do we know this? Let's examine the scriptures to find out.
"Listen to another parable: There was a landowner who planted a vineyard. He put a wall around it, dug a winepress in it and built a watchtower. Then he rented the vineyard to some farmers and moved to another place. When the harvest time approached, he sent his servants to the tenants to collect his fruit.

The tenants seized his servants; they beat one, killed another, and stoned a third. Then he sent other servants to them, more than the first time, and the tenants treated them the same way. Last of all, he sent his son to them. 'They will respect my son,' he said.

But when the tenants saw the son, they said to each other, 'This is the heir. Come, let's kill him and take his inheritance.' So they took him and threw him out of the vineyard and killed him.

Therefore, when the owner of the vineyard comes, what will he do to those tenants?

'He will bring those wretches to a wretched end,' they replied, 'and he will rent the vineyard to other tenants, who will give him his share of the crop at harvest time.'

Jesus said to them, 'Have you never read in the Scriptures:

'The stone the builders rejected

    has become the cornerstone;

the Lord has done this,

    and it is marvelous in our eyes?'

Therefore I tell you that the kingdom of God will be taken away from you and given to a people who will produce its fruit. Anyone who falls on this stone will be broken to pieces; anyone on whom it falls will be crushed."
The Parable of the Vineyard shows that Israel was rejected by God.
"So in Christ Jesus you are all children of God through faith, for all of you who were baptized into Christ have clothed yourselves with Christ. There is neither Jew nor Gentile, neither slave nor free, nor is there male and female, for you are all one in Christ Jesus." (Gal 3:26-28) Ethnicity no longer matters.
"These things are being taken figuratively: The women represent two covenants. One covenant is from Mount Sinai and bears children who are to be slaves: This is Hagar.… Therefore, brothers and sisters, we are not children of the slave woman, but of the free woman." (Gal 4:24, 31) Fleshly Israel is not in the new covenant, Christians are.
"Neither circumcision nor uncircumcision means anything; what counts is the new creation. Peace and mercy to all who follow this rule—to the Israel of God." (Gal 6:15-16) The Israel of God is refers  to spiritual Israel. Christians, not fleshly Israel, are in the new covenant.
"A person is not a Jew who is one only outwardly, nor is circumcision merely outward and physical. No, a person is a Jew who is one inwardly; and circumcision is circumcision of the heart, by the Spirit, not by the written code. Such a person's praise is not from other people, but from God." (Rom 2:28-29) Fleshly distinctions no longer matter, such as circumcision.
"But you have come to Mount Zion, to the city of the living God, the heavenly Jerusalem. You have come to thousands upon thousands of angels in joyful assembly, to the church of the firstborn, whose names are written in heaven. You have come to God, the Judge of all, to the spirits of the righteous made perfect, to Jesus the mediator of a new covenant, and to the sprinkled blood that speaks a better word than the blood of Abel." (Heb 12:22-24) Christians come to heavenly Jerusalem through Christ, not earthly Jerusalem.
"Jesus answered, 'I am the way and the truth and the life. No one comes to the Father except through me.'" (Jn 14:6) A relationship with God is only possible through Christ.
"Salvation is found in no one else, for there is no other name under heaven given to mankind by which we must be saved." (Acts 4:12) Salvation is only possible through Christ.
"When you were dead in your sins and in the uncircumcision of your flesh, God made you alive with Christ. He forgave us all our sins, having canceled the charge of our legal indebtedness, which stood against us and condemned us; he has taken it away, nailing it to the cross. And having disarmed the powers and authorities, he made a public spectacle of them, triumphing over them by the cross. Therefore do not let anyone judge you by what you eat or drink, or with regard to a religious festival, a New Moon celebration or a Sabbath day. These are a shadow of the things that were to come; the reality, however, is found in Christ." (Col 2:13-17) The Law covenant was canceled with Christ's death.
" Therefore, remember that formerly you who are Gentiles by birth and called "uncircumcised" by those who call themselves "the circumcision" (which is done in the body by human hands)—remember that at that time you were separate from Christ, excluded from citizenship in Israel and foreigners to the covenants of the promise, without hope and without God in the world. But now in Christ Jesus you who once were far away have been brought near by the blood of Christ.
For he himself is our peace, who has made the two groups one and has destroyed the barrier, the dividing wall of hostility, by setting aside in his flesh the law with its commands and regulations. His purpose was to create in himself one new humanity out of the two, thus making peace, and in one body to reconcile both of them to God through the cross, by which he put to death their hostility. He came and preached peace to you who were far away and peace to those who were near. For through him we both have access to the Father by one Spirit." (Eph 2:11-18) All people have the opportunity to gain free access to God. The fleshly barriers have been removed.
"'Are you so dull?' he asked. 'Don't you see that nothing that enters a person from the outside can defile them? For it doesn't go into their heart but into their stomach, and then out of the body.' (In saying this, Jesus declared all foods clean.)" (Mk 7:18-19) Jesus paved the way for the change made clear in Acts 10:9-29 in which all foods were declared clean.